Engine Animations
Engine animations make it easier to understand how engines work.
.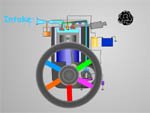 Discover some properties of the internal combustion engine with this interactive Flash animation.


---
Engine app for the iPhone and iPad
This app is developed by the author of this website.
Click on the icons below to download on the App Store.

Engine for iPad / iPhone      Engine lite - free

---
Get the full version for iPad at App Store
Search: "engine Visual Maths and Science"
or
for android devices at Amazon.com.
First download the "Amazon Appstore" app
Then search: "Visual Maths and Science - engine"
or
for computors on CD
Contact me at: PeetvanSchalkwyk@gmail.com

---
.
.
.
.
.
.