Electricity Animations
First download a Flash Player from Adobe website.
Direct current (dc) and alternating current (ac) are demonstrated with this interactive electricity animations.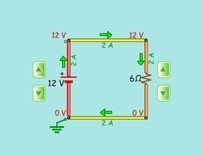 Students will learn about direct current and alternating current with this interactive Flash animation. Lecturers and teachers can use them in their lectures.


---
Electric circuit iPhone / iPad     Basic electric circuit lite

---
Get the full version for iPad at App Store
Search: "basic electric circuit van Schalkwyk"
or
for android devices at Amazon.com.
First download the "Amazon Appstore" app
Then search: "Visual Maths and Science - Basic Electric Circuit Animation"
or
for computors on CD
Contact me at: PeetvanSchalkwyk@gmail.com

---
.
.

. .
.
.
.
.