Gears in action

Learn about gears - its properties and applications
Click on the link below to access Gears - lite on your browser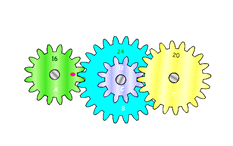 ---
Geared devices can change the speed, torque, and direction of a power source.

---
To buy Gears - full version, click on the link below

Gears - Full version for Windows PC

---
Gears app for the iPhone and iPad is available.
This app was developed by the author of this website.

Click on the icons below and download on the App Store.
Gears for iPad / iPhone       Gears lite

---
Get the full version for iPad at App Store
Search: "gears Visual Maths and Science"
or
for android devices at Amazon.com.
First download the "Amazon Appstore" app
Then search: "Visual Maths and Science - gears"
or
for computors on CD
Contact me at: PeetvanSchalkwyk@gmail.com

---
---